The Futaba 2.4GHz Story

FHSS Technology
Futaba introduced FHSS (Frequency Hopping Spread Spectrum) systems in 2010, to offer modelers a less expensive way to enjoy 2.4GHz dependability. Other advantages include extremely low latency, exceptionally fast frame rates, transmitters with no external antennas and low-cost receivers with Easy Link convenience.As the name implies, the transmitter signal of an FHSS system literally hops from frequency to frequency in a pseudorandom sequence. The combination of frequency hopping with Futaba's advanced algorithms creates 100% frequency security.Futaba FHSS and S-FHSS systems are also compatible with models that display the FTR (Futaba Transmitter-Ready) symbol. It means that the model's factory-installed receiver is FHSS-compatible and can be linked and used with an FHSS transmitter you already own.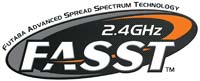 FASST
Futaba is the first of the traditional radio manufacturers to bring the advantages of 2.4GHz spread spectrum technology to modelers and the first to introduce that technology in a full-range aircraft system. For getting the full benefits of 2.4GHz technology, you'll find that Futaba's experience makes all the difference.The advantages of Futaba 2.4 GHz FASST systems: Other 2.4GHz systems hold firm to one or two frequencies, increasing the potential for interference. The frequency of Futaba 2.4GHz FASST shifts hundreds of times per second, so there are no signal conflicts or interruptions and no need for a frequency pin! 2.4GHz FASST scans incoming data and applies sophisticated error correction techniques resulting in a system that gives you a solid, impenetrable connection with your model. Futaba 2.4GHz FASST systems seamlessly select the best reception between two receiver antennas, so there's no loss of signal.R603FF, R616FFM, and R6004FF receivers do not offer Dual Antenna Diversity. Futaba 2.4GHz FASST system transmitters leave the factory with a unique and permanent ID code. Once linked to the receiver, the code ensures that the receiver will recognize and respond ONLY to that transmitter. The linking process is simple...just push a button on the receiver. Custom-Developed IC ChipsFutaba uses custom IC chips that have been designed specifically for radio-control ensuring quality, reliability, and safety. This is why Futaba FASST systems are faster and more reliable than the competition.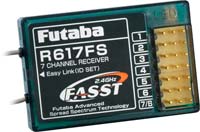 FASST Receivers
Compact, "All-in-One" ReceiversFutaba's small, powerful 2.4GHz FASST R617FS receiver for flight systems can control giant-scale models as easily as park flyers and weighs a scant 6.37 grams without case. Full-range systems from other manufacturers include a bigger, two-piece receiver, and you must purchase a smaller park flyer receiver separately. Over 2x Less Minimum LatencyLatency is the elapsed time between your movement of the transmitter controls and servo response. In Futaba 2.4GHz FASST systems, that response can happen over twice as fast so you feel less like you're "out in front" leading your model, and more like you're inside driving or flying it.Comparing the 6EX FASST system to the DX7. 100x Faster Antenna SwitchingIf the receiver notices a problem with the data coming into one antenna, it rapidly switches to the other, looking for the sharpest signal.Comparing the R617FS receiver to the AR6000 receiver. Stronger, More Robust LinkFutaba doesn't need redundant receivers. Instead, we use a combination of Channel Shifting and Dual Antenna Diversity (DAD) to provide a robust, highly dependable link between transmitter and receiver. Hassle-Free Fail SafeFutaba 2.4GHz's Fail Safe is programmed right through the transmitter just like PCM1024, PCM-G3, just like on conventional systems. The competitor's radios require a complicated six-step process to set up their Fail Safe, along with a separate binding plug that can easily be misplaced.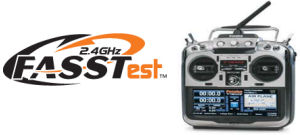 2.4GHz FASSTest Technology
FASSTest is the latest revolution in Futaba 2.4GHz technology. The 18MZ is the first FASSTest system ever, a distinction which simultaneously makes it the first true 18-channel system in Futaba history, the most advanced 2.4GHz system in the world and fully compatible with all FASST and S-FHSS systems. FASSTest technology also makes the 18MZ a bi-directional radio system capable of supporting a broad range of telemetry functions. Its high-voltage R7008SB receiver also offers modelers the unparalleled flexibility to use as many or as few of its 18 channels as desired.And while the full list of FASSTest benefits is still in the making, one thing is clear: FASSTest technology has the potential to change the way 2.4GHz systems are designed forever